I have long maintained that the most important religious trend in our life is the rise of the nuns. Like I wrote in my book The rise of the nuns, the "nones" are the unaffiliated with the religion. Asked about their religion or their religious affiliation in various polls and polls, they answer neither "Baptist" or "Catholic" or any other defined denomination. They simply say "I am nothing" or tick "none".
When I first started researching and writing about nuns, they represented one in five Americans, making them the second largest religious group in the United States, just behind Catholics. And not only that, but they were also the fastest growing religious group in the country.
Fast forward.
In 2021, the percentage of Americans who self-identified as atheists, agnostics, or no particular faith had risen to 29% of all American adults. This is almost one in three adults, up 10 percentage points from the 2011 survey. The same survey found that the number of professing Christians has increased from 75% in 2011 to 63% in 2021.
Digging further, Pew found that over the same 10-year period, those who prayed daily fell 13 percentage points, and the number of those who said religion was important to their lives fell. of 15. The conclusion of the Pew researchers was appropriate: "The secularizing changes evident in American society so far in the 21st century show no signs of abating … The share of the public without religious affiliation is six percentage points higher. percentage than it was five years ago and 10 points higher than ten years ago.
From just 5% in the 1940s to 29% today, it is clear that we are experiencing a vast cultural realignment. What is even more astonishing is when you put aside those who are between 18 and 29 years old, the youngest of the surveyed bracket, the self-designation marks 39%.
These changes are reflected in church membership. According to a recent Gallup poll, the number of Americans in places of worship has continued to decline to such an extent that it has now fallen below 50% for the first time in Gallup's eight decades of trending. In 2020, only 47% of Americans reported belonging to a church, synagogue, or mosque, up from 50% in 2018 and 70% in 1999. As anyone in the social sciences will tell you, this sharp drop in a period of time is simply breathtaking.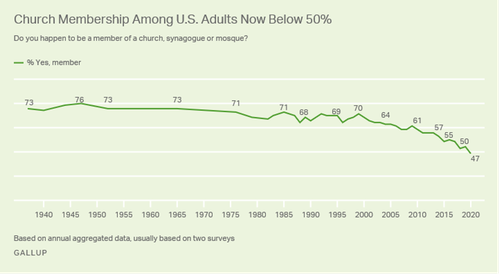 As you might expect, when analyzed by generation, the younger you are, the more likely you are to be unfaithful to the church. Of those Gallup calls "traditionalists," that is, those born before 1946, 66% belong to a church. It drops to 58% among baby boomers and just 36% among Millennials. Early data on Gen Z suggests the percentage of engagement is at least as low (if not lower) than that of Millennials, meaning the future of the American church is a generation away from being devastated. So while Christianity remains the world's greatest faith and is even on the rise in the Global South, it is no longer the dominant cultural force in the West.
It should be noted that the rise of nuns and the decline in church attendance and membership is not the same as a decline in belief in a god. Indeed, in places like the United States, the overwhelming majority are theists. So you can think of it this way: we have a world full of people open to God and even believing in God, but rejecting religious paths to that God, religious dogma about that God, and religious groups adhering to that God.
The verdict is in: God, yes. Religion, no.
James Emery White
Sources
James Emery White, The rise of the nuns (Baker), order on Amazon.
Gregory A. Smith, "About Three in Ten American Adults Are No Longer Religiously Affiliated," Pew Research Center, December 14, 2021, to be read online.
Betsy Cooper, Daniel Cox, Rachel Lienesch, Robert P. Jones, Ph.D., "Exodus: Why Americans Are Leaving Religion — and Why They're Similarly to Come Back," PRRI, September 22, 2016, read online.
Jeffrey M. Jones, "American Church Membership Falls Below Majority For The First Time," Gallup, March 29, 2021, to be read online.
About the Author
James Emery White is the founding and principal pastor of Mecklenburg Community Church in Charlotte, North Carolina, and the assistant professor of theology and culture at Gordon-Conwell Theological Seminary, where he also served as their fourth president. His latest book After "I believe" is now available on Amazon or at your favorite bookstore. To take advantage of a free Church & Culture blog subscription, visit ChurchAndCulture.org, where you can browse past blogs in our archives and read the latest news on church and culture from around the world. Follow Dr White on Twitter, Facebook and Instagram @JamesEmeryWhite.