May's beginning Celtic Star Books will publish Celtic historian David Potter's latest book, Willie Fernie – Putting on the Style. David was at Celtic Park yesterday afternoon for Celtic FC's first ever women's game to be played at Celtic Park in front of a decently sized Celtic supporter and he certainly seemed to be enjoying his day in the Parkhead sunshine. You can read his post-match thoughts below.
And as well as enjoying yesterday's splendid performance from Fran Alonso's side, David Potter took the time to answer a few quick questions for us about Celtic legend Wille Fernie and his long-awaited biography Putting on the Style.
This will be The Celtic Star's fifth book following Invincible, Walfrid & The Bould Bhoys, Alec McNair – Celtic's Icicle and Harry Hood – Twice as Good. The Walfrid book is completely sold out but the others are still available on Celticstarbooks.com and the Invincible and Alec McNair books are currently half price.

So to David Potter's Q&A on Willie Fernie – Putting on the Style. Watch this short video first, it will put a little smile on your face…
What is your earliest memory of seeing and/or hearing about Willie Fernie? Dens Park, 29 March 1958. Dundee 5 Celtic 3 on a very rainy day when many referees reportedly ruled the ground unplayable. A poor performance from Celtic who, having left the Scottish Cup, had more or less given up for the season, but the fans were still enjoying the 7-1 match last October. The pitch was far too wet – almost flooded in places – for Fernie to practice his passing skills.
Can you tell us about your favorite Willie Fernie memory or anecdote? The way he provided an "old heid" for young people when he returned in 1960, and it almost paid off. Charlie Gallagher in particular was very fond of Willie Fernie.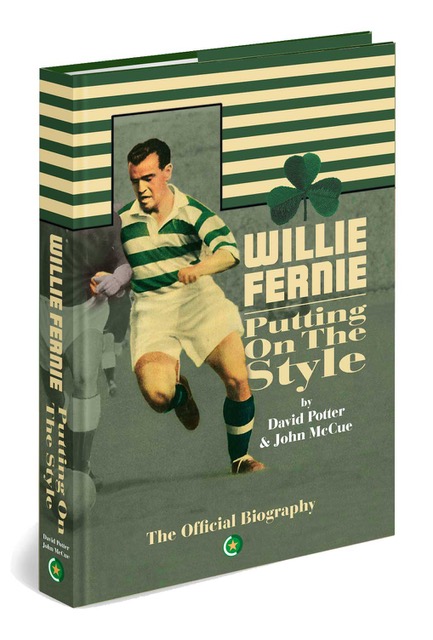 What do you remember from the Coronation Cup triumph in 1953 and the League and Cup double the following year? I remember them, but I was just too young to really appreciate what they were, but I remember everyone was excited about the role he played in Sean Fallon's game-winning goal in the Scottish Cup final in 1954.
What are your memories of Hampden in the Sun? Do you think that was Willie's finest hour as a player? Just too young to be allowed to go to this game, but obsessed with it and vividly remembering coming home from matinee at the cinema to be told by my talkative, incoherent dad that they had won 7-1 after having heard vague rumors coming up the road. And yes, I think this has to be Willie Fernie's finest hour. Supporters and press are unanimous on this point.
Do you remember Willie leaving Celtic for Middlesbrough and if so how did you feel / how did you hear about it? Yes! Almost in tears and wondering why he would want to do this. But my father immediately said it was to pay for the projectors! Or just pure club greed.
Do you remember his return to Celtic Park and the invasion of the mini pitch by young people before? Were you one of them? Yeah, and I remember being excited about it, but no, I wasn't there that day.
Along the same lines, remember the 1962 Scottish Cup semi-final at Ibrox where Willie scored for St Mirren against his former side? were you there? Again, I wasn't there, but remember being numb with disappointment after everything had been so rosy and upbeat before the game, especially when we beat them the previous Monday night at Love Street, and having thought Fernie was now too old to hurt us.
Also remember talking to a fan who blamed it all on Dunky MacKay's odd decision to play against the wind. It was not enough in itself to lose the game, but the quarrels and arguments between the defenders were important, and it affected me because I had seen this kind of thing many times on the pitch in other games that season. I was hoping and praying Willie could turn it on for Saints in the final against Rangers, but Rangers were far too skilled and professional for St Mirren that day.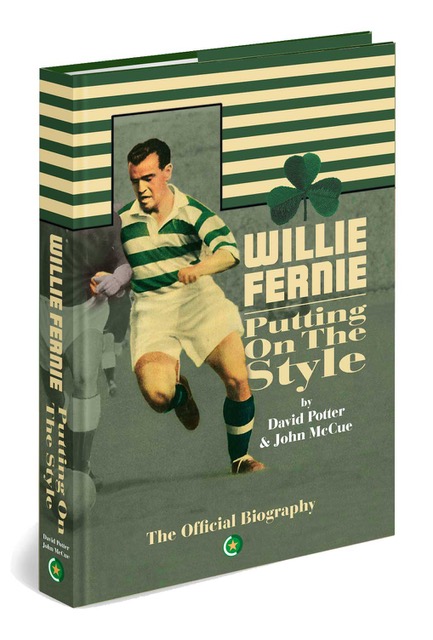 Where does Willie Fernie fit in your list of favorite Celts? Very high indeed. As for Bobby Murdoch, I thought he was better right half than attacking, even if he himself preferred to be in front. But he was so versatile!
Which others from his era did you enjoy watching the most? Bobby Collins, Billy McNeill, Pat Crerand, Charlie Gallagher
What prompted you to write Willie's biography, Putting on the Style? What support did you get from Willie's family? Just that he was such a great Celtic player and no one else had written a biography of him. Maximum support from his two sons Alex and David Fernie, and his sister Mary Gillies to whom I am very grateful. Not to mention my co-author John McCue – 'The Boro' – who covers Willie's Middlesbrough period in Putting on the Style.
When was Wille Fernie – Putting on the Style released and where can fans order a copy?
Wille Fernie – Putting on the style is published May 6 and advance orders can be placed now via Celticstarbooks.com/shop – I have been invited by The Celtic Star to sign these advance copies and am happy to include any personal dedications readers would like to add, maybe for a special birthday or Father's Day in June. The Celtic hypermarket and other club outlets will also carry Putting on the Style, as will the Celtic online store.
You can pre-order a signed copy using the link below. If you would like a personal message from David Potter added to your book, please send the text you wish to add to [email protected] and I will pass it on to David to sort it for you.